Francisco Alonso is the father of Grachi. He is played by Ramiro Fumazoni.
Biography
Edit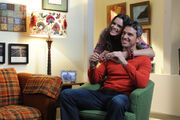 He was the Mathematics professor in the Escolarium. According to Grachi, Mecha and Daniel, Francisco makes horrible sandwiches with unusual combinations. Ursula,the mother of Matilda is in love with Francisco. In fact Ursula always call Francisco "Francis". At the end of season 1, he became the new principal of the Escolarium, making everything back to normal.
Relationships
Edit
Ursula is Francisco's wife.
Ad blocker interference detected!
Wikia is a free-to-use site that makes money from advertising. We have a modified experience for viewers using ad blockers

Wikia is not accessible if you've made further modifications. Remove the custom ad blocker rule(s) and the page will load as expected.