Jennifer gracni 23 212412w54st witcn thumb|400px|link=Grachi is a Nickelodeon Latin America fantasy television series written by Catharina Ledeboer and Mariana Palos. It premiered in Latin America on May 2, 2011. The series stars Isabella Castillo, Andrés Mercado and Kimberly Dos Ramos, and also features Mauricio Henao, Sol Rodríguez and Lance Dos Ramos. In June 2011 it was confirmed that the series will be renewed for a second season, which is due to air in 2012 in the US and 2013 in the Philippines. Starting July 22 up to August 2, Grachi took a 2 week break and started airing again on August 5. The second season ended on September 11, 2013.
The series revolves around the adventures of Grachi, a teenager who discovers she is a witch, and how she learns to use her magical powers while confronting the evil witch and arch nemesis Matilda. Grachi and Matilda are both in love with Daniel, a handsome and popular boy at their school, and much of the plot centres on this love battle
Matilda starts dating Diego, a friend of Daniel. A new witch named Mia comes to town and is after Daniel's affections. Grachi will do anything to fight the love that she and Daniel has.
Grachi now attends the school for witches(a coven). She also meets Axel, who at first becomes her love-interest, and later, her enemy .
Background
Edit
The show was produced by Nickelodeon Latin America and written by Venezuelan author Mariela Romero, who also created the teen novela Isa TKM. Tatiana Rodriguez commented that: Template:Cquote The program uses advanced production technology and 3D effects under the management of production house Aisha Enterprises, Inc. The executive producers are Solange Rivero and Yuldor Gutierrez.
The series will be renewed for a second season, set to air in January 2012. The Grachi cast will also embark on a tour of Latin America.
Main Cast
Edit
Principal article: Characters
Recurring and Stellar
Edit
Special Guests
Edit
TV Special
Edit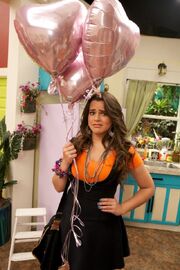 Wonderfully Magical Story
Edit
Wonderfully Magical Story is the first special of the series, which premiered on May 2, 2011, before the release of the series. This special was a presentation of the characters and the content of the series.
Unpublished episode
Edit
This is a TV special containing some deleted scenes. It will be released on August 19, 2011. Principally, the episode focuses on the character Churi Kanaya, Diego, and his powers such as freezing and ignition.
Quiero Mis 16
Edit
It will be a fictional story, made by a fictional TV show called "Quiero Mis 16". The release is scheduled for August 25, 2011. This special tells the story of the 16th birthday of the character of Matilda, and will feature scenes from final episode.
The soundtrack of the series was released in Latin America on June 7, 2011. The album includes 14 songs used in the series. The simple theme of the series was released on June 7, 2011, with its accompanying video, by Nickelodeon Latin America. The second single from the album, Hechizo de Amor, was released on May 6, 2011, performed by the band Ádammo.In Philippines exist the Grachi song in English version. Season 2 and 3 has the Grachi remix.
International broadcasts
Edit
References
Edit
Ad blocker interference detected!
Wikia is a free-to-use site that makes money from advertising. We have a modified experience for viewers using ad blockers

Wikia is not accessible if you've made further modifications. Remove the custom ad blocker rule(s) and the page will load as expected.