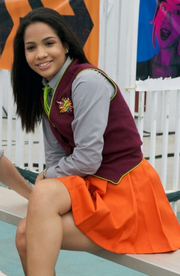 Lucia is one of the recurring characters of
Grachi
.
Biography
Edit
Lucia is one of Grachi's friends. She used to date Chema in order to make Katty jealous. She is actually a smart girl, which makes her a type for Tony. She is in love with Tony, and was sad when he moved to another school, although, they still communicate through video chat.
Powers and Abilities
Edit
Lucia is revealed to be a brainiac, apparently ending up being one of the three smartest students of the Escolarium. As a friend of Grachi, she has knowledge that she is a witch, and ending up helping her in defeating the principal during the first season.
Ad blocker interference detected!
Wikia is a free-to-use site that makes money from advertising. We have a modified experience for viewers using ad blockers

Wikia is not accessible if you've made further modifications. Remove the custom ad blocker rule(s) and the page will load as expected.