Melanie is one of the siblings of Daniel and cousin of Chema. She is one of "The terrible three" (Younger Esquivel Siblings). Melanie is in love with Guillermo. Melanie was turned into a Hamster by Matilda because she heard the Pincipal and Matilda talking about the plan to destroy Escolarium and will tell to Grachi. During her Hamster days she is named Celery. She is played by Evaluna Montaner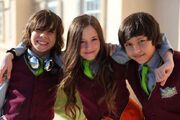 .
She loves modeling, that's the reason why she was gone for maybe 3 to 4 weeks from the show. She knows that Grachi,Matilda and the principal are witches.
Ad blocker interference detected!
Wikia is a free-to-use site that makes money from advertising. We have a modified experience for viewers using ad blockers

Wikia is not accessible if you've made further modifications. Remove the custom ad blocker rule(s) and the page will load as expected.