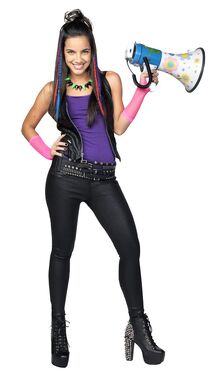 Mia Novoa is one of the main characters of
Grachi
. Also, the co-antagonist star along with Matilda in season 2 and
Mia Novoa
250px

Vital statistics
Title
{{{title}}}
Gender
female
Race
latino
Faction
{{{faction}}}
Health
{{{health}}}
Level
{{{level}}}
Status
alive
Location
{{{location}}}
secondary antagonist/anti hero in season 3
Biography
Edit
Mia Novoa is a tranferred from balboa academy  to Escolarium. Mia is the younger sister of Ignacio "Nacho" Novoa. Mia is a witch like Grachi. Mia is also in love with Daniel, causing a duel with Grachi. She is an evil witch, and does anything to people who get in her way. At the end of season 2, Grachi defeats Mia and erases her memory. In season 3, her memory is restored with the help of her best friend Amaya and plans revenge on Grachi.
Powers and abillities
Edit
Mia is a witch. But uses her powers for evil and as an advantage to do anything. Due to her much more exposure to magic, she was much more powerful than Grachi, until Grachi overpowered her during the season finale. Unlike Grachi and Matilda, Mia uses her fist instead of her finger, and her magic is violet smoke. Although without the existence of Grachi, Mia's magic is Grachi's pink spark in the oblivion world.she isnt exactly more powerful she seems to be equaled with Grachi but she knows more spells.
Relationships
Edit
Grachi is Mia's enemy, not just in magic but in romance too. After finding out that Mia is in love with Daniel, Grachi started to become more aggressive as the days go by. Mia is one of the reasons why Daniel and Grachi always argue. One time, Mia moved to another school in order to be with Daniel. That was also the time when Daniel chose to move schools. In the season finale Grachi erases her memory.
Mia hypnotized Daniel in order for him to become a bad boy and do mischief, causing his reputation to drop. Luckily, Grachi's love for Daniel was much more powerful than Mia's spell, 
Mia and Matilda have a slight rivalry, but always agree on each other when they want to get back at Grachi.    
Takács Bianka Grachi legjobb barátja Amaya testvére   
Mia is the second antagonist of the series, the first being Matilda. Mia is also the first antagonist to be against the protagonist during the season's finale. Matilda teamed up with Grachi in order to defeat Mrs. Director. But, she became a protagonist in the season 3 finale.
Mia is the third witch to have an obsession with Daniel.
Without the existence of Grachi, Mia is a nerd.
At the end of the second season, Mia loses her memory, thus not remembering that she was a witch.